Volunteer
Volunteer applications for TRP 2013 have now closed. We do appreciate your interest!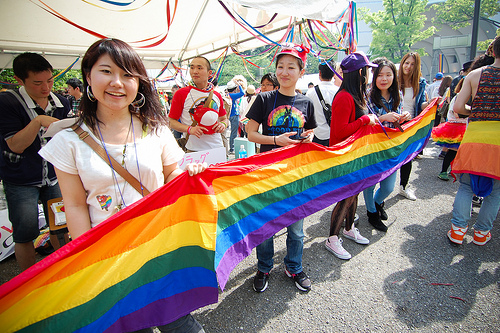 Don't have much time?
Mix and match what suits you. You can be involved in the planning or volunteer only on the day of the parade.
Don't live in Japan?
No problem! Translators or web developers can work online from anywhere in the world. Email us and we'll get you set up.
Don't speak Japanese?
You can work in English. Create content, be a community ambassador or perhaps help staff the international booth.
Parade management
Organisation
Management plan
Make props to use on the day
Negotiate with waste disposal company
Plan the clean-up afterwards
Organise food and drink
Participants
Order groups in the parade
Produce participation manual
Deal with any queries
Reception
Distribute parade packs
Manage interpreters
Train volunteers
Facilities
Set up staff rest area
Distribute food and drink
Negotiate with trained medics
Human resources
Direct section leaders
Manage internal communications
Volunteer events
Miscellaneous
Negotiate with police
Accounting
Administration
Press and marketing
Strategy
Plan and implement media area
Media and stakeholder relations
Get messages of endorsement
Correspond with journalists
Website
Manage content
Update social networks
Plan and create content
Translation
User-generated content
Press releases
Various documents
Editing
Press releases
Official guidebook
Manage gallery
Visual media
Record the parade and other events
Find and manage photographers
Fundraising and community
Community
Work with LGBT organisations
Study groups
University societies
Community ambassadors
Business
Negotiate with sponsors
Obtain samples
Contact businesses
Merchandising
Create official goods
Sell flags and balloons
Negotiation
Renting of booths
Float decorations
Maintain regulations
Fundraising
Create donation boxes
Collect donations
Visit LGBT related events