Tokyo Rainbow Pride 2013
Tokyo Rainbow Pride 2013 was held on Sunday April 28th. The parade celebrates the diversity of the LGBT community and raises awareness of issues facing LGBT people in Japan.
The parade begins in Yoyogi Park Event Space on 28th April and winds through the neighborhoods of Shibuya and Harajuku. The exact route is subject to change, so please check back before the parade. Read more...
About Tokyo Rainbow Pride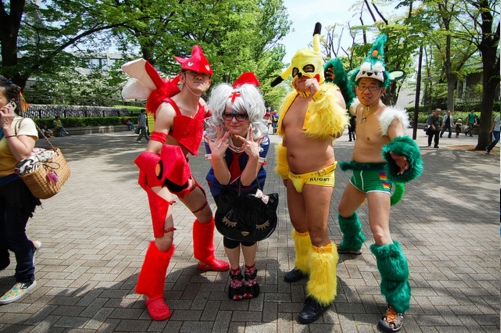 What is a Pride parade?
Pride is a celebration of lesbian, gay, bisexual and transgender (LGBT) culture. Everyone is welcome to participate, regardless of sexuality. Read more...
Who organises it?
Tokyo Rainbow Pride is run entirely by volunteers and anyone is welcome to join us. We all agree that a society which is LGBT friendly is a better society for everyone. Read more...
Introducing Tokyo Rainbow Week
Tokyo Rainbow Pride is proud to be part of Tokyo Rainbow Week, the first week long festival of Pride events in Japan. There are many other events taking place, including film screenings and a seminar for businesses.

TRP2013 中文頁面
Messages from everyone
We are collecting messages of support from groups and individuals around the world. Read more...
Request for donations
We are seeking donations to help us run Tokyo Rainbow Pride. All donations received will go towards the cost of running the event. Read more...
Enjoy the best LGBT events
We will be fundraising at various events for Tokyo Rainbow Pride. Please come along to these events, meet our volunteers and show your support. Read more...
Express your individuality
The parade is a colourful and lively event and it's a great chance to have fun and make new friends. Bring your partner, friends and family! Read more...
Help spread the word
Please let everyone know about Tokyo Rainbow Pride by showing your support on social networks.