Pre-Party of Tokyo Rainbow Pride 2013 (Cooperative Event)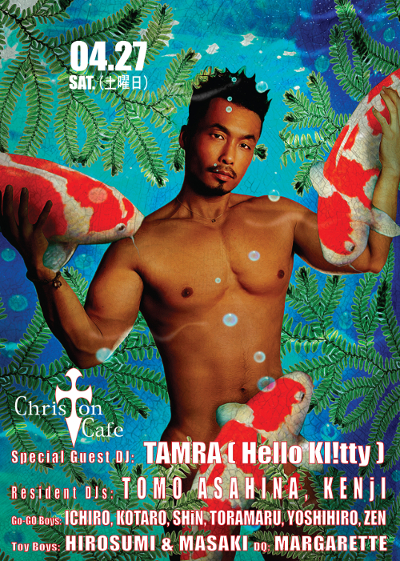 The RING April 27th (Saturday)
@ Christon Café in Shinjuku
Let's have fun all together! This event is opened for all genders.
Special Guest DJ: Tamra (Hello Kl!tty)
Ring DJs: TOMO ASAHINA, KENjI
DQ: MARGARETTE, LADY J
Toy Boys: HIROSUKI & MASAKI
Go-GO Boys: ICHIRO, KOTARO, SHiN, TORAMARU, YOSHIHIRO, ZEN
VJ: SEI
Open: 24:00 Price: ¥2,000 if you come by 24:30
Flyer: ¥3,500/1D Door: ¥4,000/1D
VIP Champagne Room: Buy one bottle of champagne for 10,000 yen and 4 people can enter into the VIP room.
Please check the movie!
Go-Go Boys

Watch the video
Toyboys

Watch the video
Margarette and Toyboys

Watch the video
Thank you for promoting this event. You can invite your friends and like us on Facebook.
We ask for your photo ID at the entrance. 20 and over only.
Graphics: Xray
Check us out on mixi and Facebook. Invite your friends on mixi and Facebook.